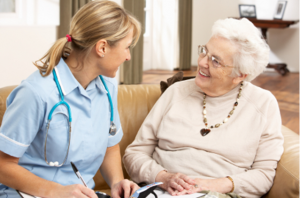 Are you considering senior living or care options in Charlotte?   Call 704-579-4480 to talk with a local expert who can answer your questions about assisted living in the Charlotte area today.
What level of care is right for my parent?
How do I talk with my family about getting help?
Do I really need a nursing home or can assisted living meet my needs?
My father was a veteran.  Will Aid & Attendance help cover costs?
Is my parent's forgetfulness or moodiness anything to be concerned about?
What are the benefits of a community vs. staying at home?
How much money will senior care cost?
What don't I know about senior care that I need to know?
What is the difference between the various communities?  What should I look for when I tour?
What type of care is most appropriate for dementia or Alzheimer's Disease?
What community support services are there in Charlotte?
Families come in all shapes and sizes. Some are close, some are distant. Most rely on one or two people to manage care but ultimately the whole family wants to be involved in some way when it comes to the care of a parent or loved one. If your parent or family member needs help, consider your options for care.
Why family members may not see eye to eye.
A difference in perception of need among family members is common. The person who sees your parent most can be more in tune with what's going on with them on a day to day basis. They can also become so burned out by coming to a parent's aid that they don't know where to begin to ask for help. Often they are afraid of being judged by siblings as not doing enough of the right things. Sometimes they don't want to worry them and sometimes siblings simply have difficulty working together, particularly on the sensitive issue of parental care. Siblings who live at a distance and don't see their parent assume everything is fine as long as they don't hear about it. "Why can't Susie just leave work early for the third time this month to take mom to her doctor?" "If mom is afraid, can't Jane just have her stay at her house or sleep at mom's for a few days?" "Why isn't Jim making sure mom's taking her meds correctly?" "Hiring help is out of mom's budget, John and his wife are just going to have to take care of things for her." Seriously? These are comments that can only come from a sibling who isn't dealing with the day to day concerns of caring for a parent. Most adult children have jobs, children, grandchildren and personal commitments to manage. Most want to help with their parents and do all they can. But the reality is, one person cannot do things alone. Sibling attention and support are important to the wellbeing of any parent who is no longer able to manage alone. Just like you cannot give up your job, your family and your home to move closer to mom or dad to care for them, neither can a sibling who is geographically closest to mom or dad completely reinvent their life to accommodate care, no matter how much they may want to. The truth is, whether you're the Waltons or the Kardashians, families need to come together when caring for a parent in need. This is role reversal. The adult child is now taking on parental responsibilities for their own parent. The parent has become the person who needs to be cared for, encouraged, led to good decisions and kept safe. The same selflessness and structure we'd afford our own children we now need to exhibit for our parents. By no means does this mean treat them like children. They've lived full lives, made good and bad decisions, and loved us to the best of their ability. They care, they have opinions and experience, they get scared and they get angry. They are still your parents. They are just a more vulnerable version of themselves facing some very unsettling changes in their lives. Whether you live near or far, there are certain things you can do to help.
Types of senior care:
There are several types of senior care available depending on your need. Click here for an overview of each type.
Talk with your parent:
Open up a conversation to learn more about your parent's wishes. What do they consider quality of life? Is it realistic? Read more:
Caregiver Stress:
Talking with family about the stress of caregiving is tough. Many feel guilt, failure and selfishness if they can't meet the parent's needs, or if they are just tired and need a break. Read more:
Financial/Legal concerns
Just about the worst thing that can happen to a senior is to reach a point where help is urgent and there is no assignment of power of attorney, no living will, and no prior knowledge of health concerns. Read more:
Understand the whole person
Spending time with a parent can be enjoyable. Helping feels good when we're successful. We can be grateful, loving and tireless in our commitment to them. There are times, though, when parents need things we, or even a trained caregiver, cannot provide. As hard as we try to be part of a parent's life, we will never be their peer. We will never have shared the same experiences from the same perspective. We can be sympathetic and supportive but will never have walked in their shoes. Everyone, no matter how much of a "loner" they are, needs to be part of a community of peers. They need to be around other people just like them. Find ways to help them get connected. If getting out of their home is difficult, talk with them about why it's so important to them to stay home. Offer an opportunity for them to be part of a community with the same interests and abilities. If they are willing to try, they may find that leaving a house behind can allow them to find a much better life.
Virtual Dementia Tour®    
 Experience what it is like to have dementia.

Caring for another human being requires a special kind of person – someone who is empathetic, patient and kind. But how can a person who cares for elders be empathetic when they have never experienced old age in its fragile state? And yet we make decisions for and about our elders as though we know what they are coping with. Lessening the chasm between us and our elders gives us a greater chance of meeting their needs. Read More